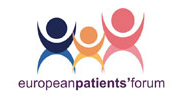 EPF is the umbrella organisation of pan-European patient organisations active in the field of European public health and health advocacy.
EPF was founded in 2003 to become the collective patients' voice at EU level, manifesting the solidarity, power and unity of the EU patients' movement. EPF currently represent 50 patients organisations – which are chronic disease specific patient organisations operating at EU level and national coalitions of patients organisations.
EPF's vision is high quality, patient-centred, equitable healthcare for all patients throughout the European Union.
EPF facilitates exchange of good practice and challenging of bad practices on patients' rights, equitable access to treatment and care, and health-related quality of life between patient organisations at European level and at Member state level.
You can find more information on the website: www.eu-patient.eu