Światowy Szczyt Zdrowia (The World Health Summit) jest doroczną konferencją Sojuszu Akademickich Centrów Zdrowia i Uniwersytetów Medycznych, zorganizowaną przez Charité Universitätsmedizin w Berlinie we współpracy z krajowymi Akademiami Nauk z ponad 67 krajów.
Misją Światowego Szczytu Zdrowia jest zebranie naukowców, lekarzy, urzędników rządowych i przedstawicieli przemysłu, jak również organizacji pozarządowych(NGO) i systemów opieki zdrowotnej na całym świecie do rozwiązania najpilniejszych problemów stojących przed medycyną i systemami opieki zdrowotnej w kolejnych dekadach.
Tegoroczny Światowy Szczyt Zdrowia odbędzie się w Berlinie, Niemcy w dniach 21-24.10.
  Link z planem na stronie: http://www.sessionplan.com/whs2012/
Głos pacjenta został przekazany w imieniu EPF, które to reprezentował Dyrektor Generalny FPP, Tomasz Szelągowski w referacie: "Will IT make the world a healthier place?"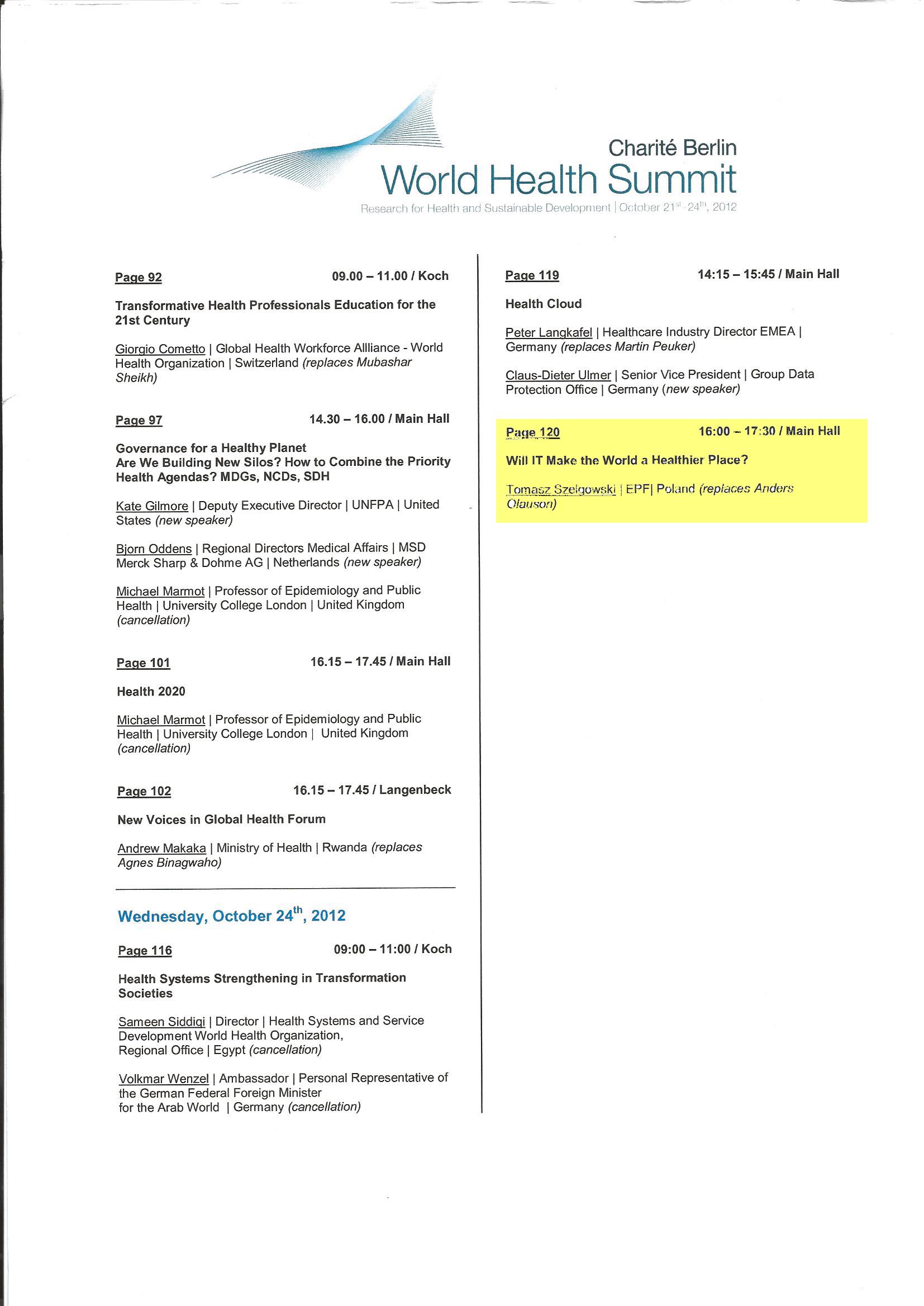 Dodatkowo pragniemy zachęcić do zapoznania się z artykułem Andersa Olausona (EPF) umieszczonym w biuletynie wydanym po zakończeniu Światowego Szczytu Zdrowia.
Tekst nosi tytuł: "EMPOWERED PATIENTS- NEW HEALTH PROFESSIONALS" i można go znaleźć na stronie 73.
http://www.newsdeskmedia.com/files/WHS-Oct12.pdf